Eagle Marine is 100% Maldivian-owned and managed, bringing together industry professionals from the fields of hospitality, leisure, boating, and marine engineering.
Eagle Marine was established in 2014, inspired by the two pioneers in the hospitality and leisure industry to find reliable boats that were sleek, elegant, and comfortable, befitting the discerning traveller in the Maldives.
Our extensive knowledge in the fields of hospitality, leisure, boating, and marine engineering gives us an advantage in understanding the intricacies of the marine industry from both the manufacturer's and user's perspective which culminates in fully customized exclusive designs, that complement the Maldivian luxury hospitality market.
Already the provider of choice for the nautical needs, interior, engineering, and power solutions of notable resorts such as The Nautilus, Baros, Milaidhoo, Kandima, and Nova. the connection with Princess Yachts and Fairline, allows for a fleet capable of meeting the most exacting requirements of the VIP traveller, whilst providing a seamless extension of the luxurious resorts and tourism establishments that the Maldives is known for.
Eagle Marine is committed to providing quality vessels and services in a socially responsible manner through inclusive leadership, engaging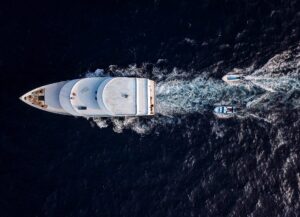 Mission
Provide a complete Marine and Engineering solution, with a focus on quality and comfort, creating unique designs, distinctive configurations, and stylish interiors that set Eagle Marine apart from others on the Market. Be the boatyard of choice for service, construction, repair, reliability, safety standards, and workmanship.
Vision
Redefine the luxury boat building market in the Maldives. Be the trusted and sought-after nautical and engineering service provider, with unparalleled quality of workmanship, the finest fittings and furnishings, and unbeatable stability, safety, and service, to provide a complete in-house solution where everything is squared away and shipshape.
Values & Goals
Exceed and enhance expectations with elegant designs
Aligned standards for quality, comfort, safety and stability
Guarantee of quality in materials and workmanship
Long-term relationships established and maintained
Enviable engineering expertise and technical services
Manufactured to meticulous detail with impeccable after-sales service
Accessories, and materials of the highest marine grade quality
Reputable and reliable, continually reviewing and refining
Innovation, ingenuity, and business integrity
Nautical needs all delivered under one roof
Entrusted to establish sustainable and environmentally conscious practices